The ad MANITOU MT1240 telescopic wheel loader for sale by auction has been sold and is not included in the search!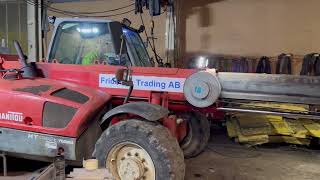 1/16
Location
Sweden
Placed on
more than 1 month
Facts

Year model: 2000
Manufacturing number: 1147802
Hours: 8900
Permitted load: 1500 kg
Lifting height max: 11.6 m
Weight: 9370 kg
Cameras: 3 pcs.
Crab control
Level control.
4 driving modes.

Seller's Comment
Working machine.
Lots of change. Including 2 pcs. drive nodes.
Fully serviced.
Good work lighting.
NOTE. No tool included, only original bracket.
Fakten

Baujahr: 2000
Herstellungsnummer: 1147802
Stunden: 8900
Zulässige Belastung: 1500 kg
Hubhöhe max: 11,6 m
Gewicht: 9370 kg
Kameras: 3 Stk.
Krabbenkontrolle
Niveauregulierung.
4 Fahrmodi.

Kommentar des Verkäufers
Arbeitsmaschine.
Viel Abwechslung. Inklusive 2 Stk. Antriebsknoten.
Vollständig gewartet.
Gute Arbeitsbeleuchtung.
NOTIZ. Kein Werkzeug enthalten, nur Originalhalterung.
Faktid

Aasta mudel: 2000
Tootmisnumber: 1147802
Tundi: 8900
Lubatud koormus: 1500 kg
Tõstekõrgus max: 11,6 m
Kaal: 9370 kg
Kaamerad: 3 tk.
Krabitõrje
Taseme kontroll.
4 sõidurežiimi.

Müüja kommentaar
Töötav masin.
Palju muutusi. Kaasa arvatud 2 tk. ajami sõlmed.
Täielikult hooldatud.
Hea töövalgustus.
MÄRGE. Tööriista kaasas pole, ainult originaalklamber.
Faktai

Metų modelis: 2000
Gamybos numeris: 1147802
Valandos: 8900
Leidžiama apkrova: 1500 kg
Maksimalus kėlimo aukštis: 11,6 m
Svoris: 9370 kg
Fotoaparatai: 3 vnt.
Krabų kontrolė
Lygio valdymas.
4 vairavimo režimai.

Pardavėjo komentaras
Darbinė mašina.
Daug permainų. Įskaitant 2 vnt. pavaros mazgai.
Pilnai aptarnauta.
Geras darbo apšvietimas.
PASTABA. Komplekte nėra įrankio, tik originalus laikiklis.
Fakti

Izlaiduma gads: 2000
Ražošanas numurs: 1147802
Stundas: 8900
Atļautā slodze: 1500 kg
Pacelšanas augstums max: 11,6 m
Svars: 9370 kg
Kameras: 3 gab.
Krabju kontrole
Līmeņa kontrole.
4 braukšanas režīmi.

Pārdevēja komentārs
Darba mašīna.
Daudz pārmaiņu. Ieskaitot 2 gab. piedziņas mezgli.
Pilnībā apkalpots.
Labs darba apgaismojums.
PIEZĪME. Komplektā nav instrumenta, tikai oriģinālais kronšteins.
Fakty

Rok modelu: 2000
Numer fabryczny: 1147802
Godziny: 8900
Dopuszczalne obciążenie: 1500 kg
Maksymalna wysokość podnoszenia: 11,6 m
Waga: 9370 kg
Aparaty: 3 szt.
Kontrola krabów
Kontrola poziomu.
4 tryby jazdy.

Komentarz sprzedawcy
Działająca maszyna.
Wiele zmian. W tym 2 szt. węzły napędowe.
W pełni serwisowany.
Dobre oświetlenie pracy.
NOTATKA. Brak narzędzia w zestawie, tylko oryginalny uchwyt.
Fakta

Årsmodell:2000
Tillverkningsnummer: 1147802
Timmar: 8900
Tillåten last: 1500 kg
Lyfthöjd max: 11,6 m
Vikt: 9370 kg
Kameror: 3 st.
Krabbstyrning
Nivåreglering.
4 körlägen.

Säljarens kommentar
Fungerande maskin.
Mycket bytt. Bl.a 2 st. drivknutar.
Fullservad.
Bra arbetsbelysning.
OBS. Inget redskap medföljer, endast original fäste.