New FABO MJK-90 MOBILE JAW CRUSHER 100-200 TPH mobile crushing plant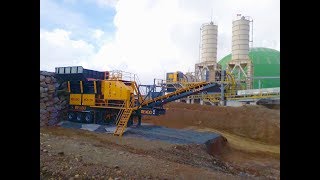 1/13
Model
MJK-90 MOBILE JAW CRUSHER 100-200 TPH
Type
mobile crushing plant
Location
Italy
Need delivery?
Calculate the cost of delivery
*All of our products are made with care and covered for 1 year warranty!
*Installation and Operator Training FREE
FABO MJK Series are a mobile type Jaw crushing plant that is suitable for especially hard and abrasive stones and other type of stones with hardness level is hard such as a basalt, granite, gabbro. You may also use this model for your concrete recycle projects or coal mining projects.

TECHNICAL SPECIFICATIONS:
-Bunker: 15m3
-Production Capacity: 100-200 Tons Per Hour
-Crusher Type & Size: Jaw Crusher – 900x650mm
-Maximum Feeding Size: 600mm
-Total Motor Power: 75 kW

MJK-90 is a combination of:

• Bunker(Hopper)
• Vibrating Grizzly Feeder (bypass)
• Primary Jaw Crusher
• Folding type bypass and stock conveyor belts
• Hydraulic feet
• Mobile Chassis with axles and tires
• Fully Automation System
• Easy walking platforms for maintanance
Diesel Generator (Optional)

FOR FURTHER INFORMATION PLEASE FEEL FREE TO CALL US!!!
* Tous nos produits sont faits avec soin et couverts pour 1 an de garantie!
* Formation d'installation et d'opérateur gratuit


La série FABO MJK est une installation de concassage à mâchoires de type mobile qui convient particulièrement aux pierres dures et abrasives et à d'autres types de pierres de dureté telle que basalte, granit, gabbro. Vous pouvez également utiliser ce modèle pour vos projets de recyclage du béton ou d'extraction du charbon.

SPECIFICATIONS TECHNIQUES:
-Bunker: 15m3
-Capacité de production: 100-200 tonnes par heure
- Type et taille de broyeur: Concasseur à mâchoires - 900x650mm
-Taille maximale d'alimentation: 600mm
-Puissance moteur totale: 75 kW

MJK-90 est une combinaison de:

• Bunker (Hopper)
• Alimentateur vibrant Grizzly (bypass)
• concasseur à mâchoires primaire
• Alimentation de type pliage, rétroaction, Bypass et convoyeur a bande en stock
• pieds hydrauliques
• Châssis mobile avec essieux et pneus
• Système entièrement automatisé
• Plateformes de marche faciles pour la maintenance
• Générateur diesel (facultatif)

POUR PLUS D'INFORMATIONS, VEUILLEZ NOUS CONTACTER !!!
* Все Наши Продукты Изготовлены С Осторожностью И Имеют Гарантию 1 Год!
* Установка И Обучение Операторов Бесплатно
Fabo Mjk Series - Это Щековая Дробильная Установка Мобильного Типа, Которая Подходит Для Особо Твердых И Абразивных Камней И Других Типов Камней С Твердостью, Таких Как Базальт, Гранит, Габбро. Вы Также Можете Использовать Эту Модель Для Ваших Конкретных Проектов По Переработке Или Проектов По Добыче Угля.
Технические Характеристики:
-Бункер: 15м3
-Производственная Мощность: 100-200 Тонн В Час
Тип И Размер Дробилки: Щековая Дробилка - 900x650 Мм
-Максимальный Размер Кормления: 600 Мм
-Всего Мощность Двигателя: 75 Квт
Mjk-90 Представляет Собой Сочетание:
• Бункер (Хоппер)
• Вибрирующий Гризли (Байпас)
• Первичная Щековая Дробилка
• Разборные Шунтирующие И Конвейерные Ленты
• Гидравлические Ножки
• Мобильное Шасси С Осями И Шинами
• Полностью Автоматизированная Система
• Легкие Прогулочные Платформы Для Обслуживания
• Дизельный Генератор (Опционально)
Для Дополнительной Информации Пожалуйста, Не Стесняйтесь Звонить Нам !!!
Important
This offer is for guidance only. Please request more precise information from the seller.
Safety tips
Seller's contacts
Erdal Bozkurt
Languages:
English, Turkish
Utku Yılmaz
Languages:
English, French, Turkish
Besim Bekir
Languages: English, Turkish, Serbian, Macedonian, Albanian
Seller's local time: 05:05 pm (CEST)
Selling machinery or vehicles?
You can do it with us!