New FABO MTK-65 MOBILE CRUSHING & SCREENING PLANT – SAND MACHINE mobile crushing plant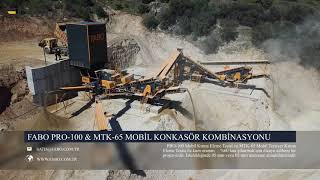 1/13
Type
mobile crushing plant
Location
Italy
Need delivery?
Calculate the cost of delivery
*All of our products are made with care and covered for 1 year warranty!
*Installation and Operator Training FREE

FABO MTK Series are mobile type & closed circuit crushing and screening plant known as also SAND MAKING MACHINE that is used for high percentage of cubical shape sand production purpose by processing soft and medium hard materials such as limestone, gypsum etc.
MTK Series includes one stage of crushing process that is made by a tertiary impact crusher which is capable to produce high percentage of sand with good cubical shape.

TECHNICAL SPECIFICATIONS:

-Bunker: 7 m3
-Plant Dimensions: 16000x3600x4500 mm
-Production Capacity: 75-120 Tons Per Hour
-Crusher Type & Rotor Size: Tertiary Impact Crusher – 1200x650 mm
-Maximum Feeding Size: 120 mm
-Vibrating Screen Size and Deck: 1300x4000 mm 3 decks
-Total Motor Power: 180 Kw
-Generator (optional): 250 kvA

MTK-65 İS A COMBİNATİON OF:

• Hopper
• Vibrating Feeder
• Tertiary Impact Crusher
• High Stroke Type Vibrating Screen
• Folding type feeding, feedback, bypass and stock conveyor belts
• Hydraulic feet
• Mobile Chassis with axles and tires
• Fully Automation System
• Dust Suppression System
• Easy walking platforms for maintanance
• Diesel Generator (Optional)

FOR FURTHER INFORMATION PLEASE FEEL FREE TO CALL US!!!
* Tous nos produits sont faits avec soin et couverts pour 1 an de garantie!
* Formation d'installation et d'opérateur gratuit

La série FABO MTK est une installation mobile de concassage et de criblage en circuit fermé, également connue sous le nom de machine à fabriquer du sable, qui est utilisée pour la production d'un pourcentage élevé de sable de forme cubique par le traitement des matériaux durs mous et moyens tels que le calcaire, le gypse, etc.
La série MTK comprend une étape du processus de concassage qui est fait par un concasseur à impact tertiaire qui est capable de produire un pourcentage élevé de sable avec une bonne forme cubique.

SPÉCİFİCATİONS TECHNİQUES:

-Trémie : 7 m3
- Dimensions de l'installation: 16000x3600x4500 mm
-Capacité de production : 75-120 TPH
-Type de concasseur & Taille de rotor : Répercussions turbo - 1200x650 mm
-Taille maximale d'alimentation : 120 mm
-Crible vibrant Taille et pont: 1300x4000 mm 3 ponts
-Puissance totale : 180 Kw
-Générateur électrique requis: 250 kvA

→ MTK 65 EST UNE COMBİNAİSON DE:

• Trémie
• Alimentateur vibrant
• Concasseur à percussion tertiaire
• Crible vibrant de type à course élevée
• Convoyeurs à bande de type pliage, rétroaction, dérivation et stock
• Pieds hydrauliques
• Châssis mobile avec essieux et pneus
• Système entièrement automatisé
• Système de suppression de la poussière
• Plates-formes de marche faciles pour le maintenances
• Générateur diesel (facultatif)

POUR PLUS D'INFORMATIONS, N'HESITEZ PAS A NOUS CONTACTER!
• Все Наши Оборудования Произведены С Заботой И Вниманием!
• Наши Установки Гарантируются Компанией На 1 Год!
• Установка И Пользовательское Обучение Бесплатно!

→ Фабо Mtk 65 – Это Мобильная Пескодробильная Установка С Закрытой Схемой Дробления, Которая В Основном Используется Для Получения Кубовидного Песка Большого Объема Через Дробление Камня Мягкой И Средней Твердости, Таких Как Известняк, Базальт И.Т.Д
→ Мтк 65 Имеет Только Один Этап Дробления Которая Производится Третичной Ударной Дробилкой, Так Как Эта Дробилка Является Идеальной Для Получения Песка Высокого Уровня Кубовидности.

Техническая Характеристика:

-Бункер: 7 М3
-Размер Установки: 16000x3600x4500 Мм
-Производительность: 75-120 Тн/Ч
-Вид Дробилки И Размер Ротора: Третичная Ударная Дробилка – 1200x650 Мм
-Максимальная Подача Камня: 120 Мм
-Вибрационный Грохот И Число Сита: 1300x4000 Мм (3 Слойная)
-Мощность Двигателя: 180 Квт
-Генератор (По Желанию): 250 Ква

Мтк 65 Состоит Из:

• Хоппер
• Вибрационный Колосниковый Питатель (Удалитель Мусора)
• Третичная Ударная Дробилка
• Вибрационный Грохот
• Складные Конвейеры
• Гидравлические Ножки
• Мобильный Шасси На Колесах
• Полностью Автоматизированная Система
• Система Пылеподавления
• Платформа Для Легкого Обслуживания И Осмотра
• Дизельный Генератор (По Желанию)

Для Подробной Детали Свяжитесь С Нами!
Important
This offer is for guidance only. Please request more precise information from the seller.
Safety tips
Seller's contacts
Erdal Bozkurt
Languages:
English, Turkish
Utku Yılmaz
Languages:
English, French, Turkish
Besim Bekir
Languages: English, Turkish, Serbian, Macedonian, Albanian
Seller's local time: 06:42 am (CEST)
Selling machinery or vehicles?
You can do it with us!